All-Inclusive Honeymoon Vacation Options and Tips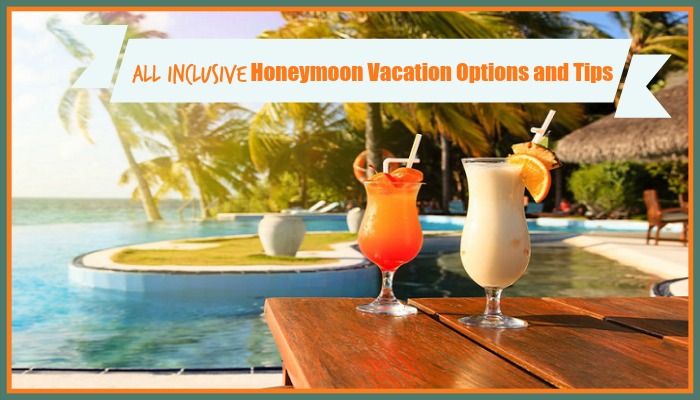 Consider booking an all-inclusive honeymoon vacation if you don't have the time or desire to piece your honeymoon together one reservation at a time. 
You pay one price, and your vacation is covered from start to finish. If you pick the right deal, you'll only have to worry about bringing enough pocket money for shopping and other personal purchases that aren't included.
What exactly does an all-inclusive honeymoon deal include? That varies from one resort to another, but some of the more common inclusions include the following:
Accommodations
Meals
Snack and drink bars
Property amenities (swimming pools, fitness centers, etc.)
On-property spa services (unlimited or select services)
Transportation to and from the airport
Select activities (snorkeling, skiing, etc.)
For many all-inclusive deals, you're limited to eating from buffets or your drinks are only covered during certain hours of the day. There are sometimes fees that you have to pay as well. You have to pay attention to the fine print because an advertisement may say that you receive "free drinks," but that doesn't mean all of your drinks are free. As for activities, you can expect the deal to limit you to services provided by a specific resort or company.
The Best All-Inclusive Honeymoon Vacation Resort Deals
Sandals is currently the leading company offering all-inclusive honeymoon vacations in the Caribbean. They call these resorts Love Nest Suites® because they're designed for lovers. You'll find properties in some of the most exotic locations, and most all-inclusive deals include your accommodations, meals at more than 10 high-class restaurants, and access to private beaches.
Some may also include activities inside the resort, spa services, or candlelight dinners. You can also expect flower petals on your bed, flowers in your room, and other nice touches of romance. The packages vary, depending on the deal that you select and the resort location. Prices typically start around $500 per person, but there are deals and discounts that may occasionally deliver an even better deal.  Check prices here...
Deals from Single-Location Resorts
Pick any romantic destination around the world, and you're likely to find a resort in the area offering some type of all-inclusive vacation package. Some are advertised for newlyweds, but others are just great deals that you can easily turn into a honeymoon vacation. Deals that you find may or may not apply to the property's all-inclusive deals, so you may need to read the rules carefully or call the resort to ask questions before settling on a location.
For instance, do you dream of staying in one of those beautiful bungalows that are extended over the ocean? You can dive right off your private bungalow deck into the cool blue water, and with food delivered right to your doorstep, you may never have to see another person until your vacation is over. You can find all-inclusive deals to a place like that by visiting Likuliku Lagoon in Fiji. The packaged deals include your stay in a bungalow, your food, non-motorized water sports within the resort, and drinks. You even get a lei when you arrive, but keep in mind that you can only get there by water or air.  Check prices here...
Making An All-Inclusive Honeymoon Vacation Work for You
All-inclusive honeymoon vacations certainly take a lot of the stress out of planning your post-wedding vacation. Just keep in mind that you will still need to have some money on hand to cover tips for service providers and shopping trips for memorabilia. You may also want to enjoy spa services, sports, or nearby excursions that aren't included with your resort stay.

Related Articles:
Home > All-Inclusive Honeymoon Options and Tips