Are All-Inclusive Honeymoon Vacations Pricier than Other Options?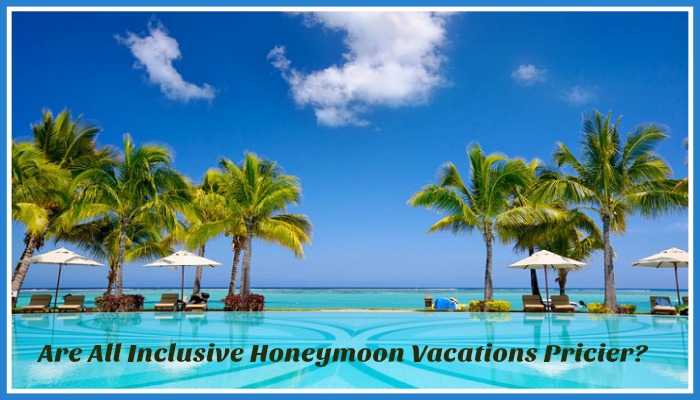 If you're planning a honeymoon on a tight budget, you may have narrowed your options down to all-inclusive honeymoon vacations in a resort package or a cruise. Piecing together a vacation from scratch gets expensive rather quickly, especially if you want to enjoy spa services, romantic restaurants with quality cuisine, drinks in beautiful spots, and a variety of activities, tours, and day trips.

An all-inclusive honeymoon vacation is supposed to wrap up all of those expenses into one affordable package so that you can pay ahead of time and eliminate financial stress while on your trip. Cruises are often similar because they give you access to a variety of restaurants, bars, and activities right on the ship while taking you to ports that offer off-board adventures as well. When these deals really do include everything that you need to thoroughly enjoy a romantic honeymoon, they are in fact much cheaper than most of your alternatives.

Questions about All-Inclusive Honeymoon Vacations:
Unfortunately, many all-inclusive packages and cruises are a bit deceptive when advertising. If you call the resort or cruise line and start asking questions or read the fine print on their websites, you'll start to realize that the packages are more like semi-inclusive offers. You need to answer all of the following questions before you determine whether an all-inclusive honeymoon vacation or a cruise package is actually cheaper than other alternatives.

Will you have access to all swimming pools, fitness clubs, hot tubs, and other amenities featured on the property? Some resorts, hotels, and cruise ships have VIP or private areas that are off limits to those visiting with the all-inclusive deal. You may gain access to these areas if you book your stay without the all-inclusive package.

What rooms are available for the package? You'll find that many deals eliminate the biggest, most secluded, and most romantic options. For instance, a resort may limit you to the smallest rooms with no views in the main inn while other honeymooners are enjoying private villas, cottages, or cabins.
Are spa services included in your package? These services are almost always excluded.

How many meals are included in the package? You will typically have to pay for all of your snacks, and you may only get one or two meals per day. This means that you need some food money to make it through the trip comfortably. 
Does your package entitle you to dine in any restaurant on the property, and are you restricted to specific dining hours? Some packages only allow all-inclusive guests to dine during set hours, and the menu is not nearly as exquisite during that time period. Others simply exclude the best restaurants from the package. 
Will we receive any alcoholic beverages? Even cruises are now restricting or eliminating alcohol from their all-inclusive packages, so you will need some extra money on hand if you don't want to sip soda or water on your honeymoon.

Are concierge services or any activities included? You may have access to a beach or other attractions on grounds, but you will most likely have to pay for activities, tours, and other adventures offered there.

What small fees might we encounter during our stay? Hotels and resorts can really get you with seemingly insignificant fees that add up with time. For instance, will your beach resort offer complimentary towels, beach chairs, and umbrellas, or will you encounter rental fees if you don't pack your own? Will you have to pay rental fees for scuba diving or snorkeling gear? What are the added charges to rent skis or a snowboard at a ski resort? Don't assume that the equipment you need to enjoy your honeymoon is all included in your package.
You also have to consider the cost of transportation. If you have to pay more to get to a resort than you would pay to stay at a hotel, villa or bed and breakfast offering a free shuttle, you may end up paying more for your all-inclusive resort honeymoon. You have to consider all of the activities and amenities that you want to enjoy and determine how much extra you'll end up paying for those not included in the package. Add in the unexpected fees that you pay with or without the all-inclusive deal, and you'll see how much money you're really saving.
Don't get discouraged if you find that some of the seemingly best deals aren't really deals at all. There are some great all-inclusive honeymoon packages that can help you save money without skimping on the romance and fun. You just have to look at each offer as if there's something to hide because many of them do have something up their sleeves.
Related Articles:
Home >  All-Inclusive Honeymoon Options >  Are All-Inclusive Honeymoon Vacations Pricier?