How to Choose the Best Honeymoon Vacation for You and Your Spouse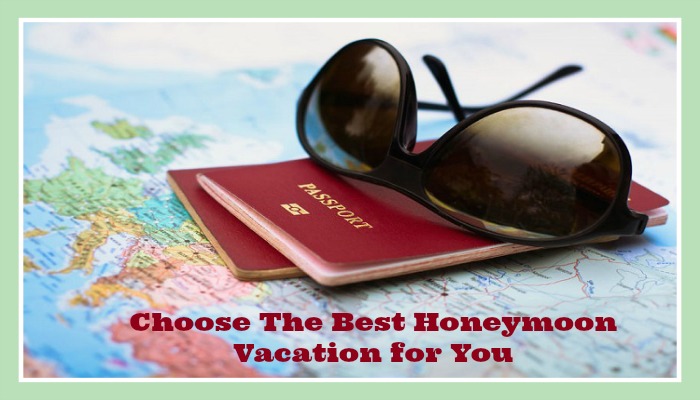 You found your perfect match and now it is time to choose the best honeymoon vacation to enjoy with your soon-to-be husband or wife.
You're about to make one of the biggest decisions of your life. This goes right up there with selecting the perfect wedding gown and deciding to say yes to the marriage proposal. You want your honeymoon to become a memorable experience that is extremely difficult to top, but that only happens if you select the right location. The best way to make this choice is to consider the following factors:
Big City vs. Seclusion. Do you picture yourselves relaxing on a secluded beach with not a single person in sight? Or would you prefer the excitement of New York City or Vegas? There are honeymoons that allow you to spend time alone in the middle of an elaborate vineyard while others allow you to take in the sights of a new culture with people scattered everywhere.


Excitement vs. Relaxation. Could you picture yourself jumping off a cliff or breezing over the ocean on a parasail? If not, perhaps you're better suited to a honeymoon destination that offers plenty of excitement while your feet remain firmly on the ground. There are many adventure honeymoons happening these days, so don't rule out the option to try something new.


Water vs. Land. There are some great honeymoon cruises that will allow you to wander through off-board excursions and then return to the water. There are also endless honeymoon destinations located on the shoreline or up in the mountains. Determine whether you're more in favor of water or land, and then decide how much time you want to spend at sea, on water sports, or hiking and horseback riding in rough terrain.


Will your vacation take place over a long weekend or do you have more time to spare? What time of year will you travel, and do you prefer to enjoy cool or hot weather? These considerations are critical because many international destinations will feature weather that varies drastically from your local climate. Some destinations will also be too far away to really enjoy on a short honeymoon.


This is listed last because it's too important not to mention, but it's also not the first thing that you should consider. Figure out your answers to the other factors listed here, and then see which destinations will fit your budget. Remember, you can get amazing deals on a variety of honeymoon destinations right here, so don't rule out your top destinations just yet.


If you still feel lost when it comes to selecting a honeymoon destination that fits the personality of both you and your spouse, spend some time looking around this site. You'll come across many suggestions for honeymoon destinations, and that is bound to include some locations that you haven't considered yet. It may even include some destinations that you haven't even heard of yet.
In the end, you'll know about more of your best honeymoon vacation options as well as what to expect from each of those options. Through some discussion with your future spouse, you'll eventually settle on the perfect honeymoon destination for your unique situation.
More Articles about Choosing the The Best Honeymoon Vacation:
Home > How to Choose the Best Honeymoon Vacation