All-Inclusive Honeymoon Destinations that Won't Break the Bank
All-inclusive honeymoon destinations often have packages that are just as pricey as booking a honeymoon stay without the package, but there are some great deals that can actually help you save money.  You don't want to sacrifice romance and playfulness while on the most important vacation of your life, but you do want to stick to your budget so that you don't start your marriage off with financial stress.
Top Budget-Friendly All-Inclusive Honeymoon Destinations:
The following all-inclusive packages can help you celebrate your marriage without crossing that financial line.

Viva Wyndham Dominicus Beach, Dominican Republic
If you can tolerate basic hotel rooms without flashy upgrades, you can take advantage of a true all-inclusive honeymoon that even includes all of your drinks, meals, and snacks. Enjoy your welcome cocktail, and then sip all the wine and cocktails that you want until it's time to check out. Head to the pool or beach to participate in games and win prizes, or look at the daily activity schedule. Participate in a live Caribbean dance class and enjoy live music on hotel grounds, or turn the music up in the privacy of your own room.
All resort facilities are included with your all-inclusive package, and you don't even have to leave gratuities at the end of the trip. You'll also enjoy a long list of water sports and beach activities free of charge, including windsurfing, sailing, kayaking, and canoeing. There are some activities that do come with an extra charge, but they are few compared to the long list of included options.  Get our best price here...
Grand Palladium Jamaica Resort and Spa, Jamaica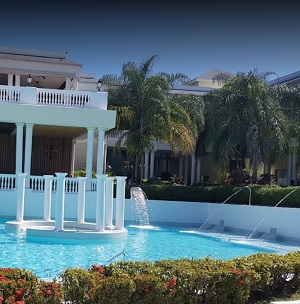 This resort is home to the largest swimming pool in Jamaica, but it's also one of the most affordable all-inclusive resorts. You can choose between a waterfront seafood restaurant, three buffets, and seven a la carte restaurants. The property is massive, the beach is spectacular, and you can opt to pay for spa services and some extra activities like horseback riding if your budget allows the splurge.

Even if you don't want to spend more than the low price of admission, the all-inclusive package includes more than enough value to make your honeymoon memorable. You'll also see many deals online that package your airline expenses with your stay.  Get our best price here...
Twin Farms – Vermont, USA
This is hands down one of the best all-inclusive resorts within the United States, and you may save some money on travel expenses if you live in a nearby state. You'll feel like you're hiding away at a quaint farmhouse with the lush grounds sprawling around you, but then you'll get first-class treatment with top-notch cuisine and relaxing spa services. Spend an evening talking by the fire and sipping champagne or head to the pub and play a game of pool.
During the day, select from a variety of activities like mountain biking, tennis, canoeing, croquet, skiing, snowshoeing, fly fishing, hiking, trail running, swimming, and sledding. This list can go on and on, but you get the point. Anything that you would do in Vermont during the season of your honeymoon, you can likely do during your all-inclusive visit to this upscale resort.
If you don't see your desired all-inclusive honeymoon destination on this list, it doesn't mean that you can't get an amazing deal to that location. We can't feature all of your options on one page, but we can help you track down the best deals so that your dream honeymoon fits within your budget.   Get our best price here...
Related Articles:
Home > All-Inclusive Honeymoon Options > All-Inclusive Honeymoon Destinations that Won't Break the Bank