All-Inclusive Honeymoon Vacations in Latin America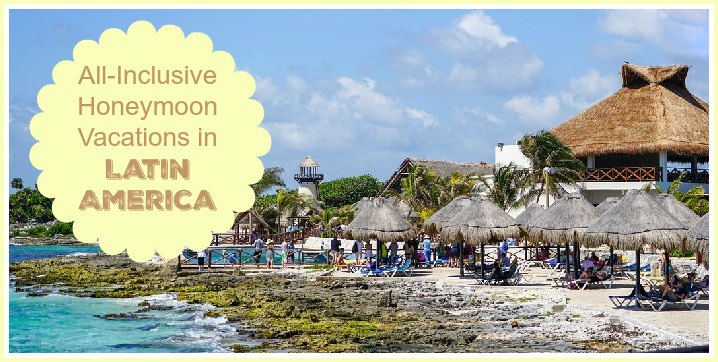 When it comes to an all-inclusive honeymoon, there's a reason that so many couples think of the Caribbean and the many countries of Latin America.  
You can find all-inclusive resorts in countries like Peru, Brazil, and Mexico that offer exciting activities, spectacular views, and insight into some of the most unique cultures in the world. When you add in the diverse culinary options, you see why Latin America is one of the best places to get away after you say "I do."

Favorite Latin America All-Inclusive Honeymoon Options:
Royal Decameron Punta Sal – Peru

This is one of the best all-inclusive deals in Peru because it includes three meals a day, snacks, and all beverages with alcoholic drinks included. You can also participate in all non-motorized sports and use the two tennis courts free of charge. Starting at 11 pm each evening, the hotel offers a nightclub that is open until 2 am. There are six bars serving drinks day and night.

Riu Palace Antillas – Aruba
This is an adult-only resort located directly on Aruba's Palm Beach. The grounds include a casino and event space where live entertainment is presented each night, including space to dance the night away. With a swimming pool, hair and beauty salon, spa, fitness center, and access to kayaking, snorkeling and other water activities, this is one of the most action-packed all-inclusive deals that you may find in Latin America today. You'll also have access to the main restaurant's buffet, but there are some themed restaurants that may not come with the inclusive package.
St. James's Club & Villas - Antigua & Barbuda
This all-inclusive Antigua resort is located on a secluded peninsula, so it's perfect for couples who want to spend their time in the resort cuddling and playing rather than touring surrounding attractions and cities. The resort includes access to two beaches, six swimming pools, six tennis courts, a fitness center, a salon, and a spa. There are four restaurants included in the package, and you can participate in non-motorized water sports for free.
Coco Plum Island Resort – Belize
This is the perfect honeymoon destination if you want to stay on a private island while enjoying activities away from the beach. This resort allows you to explore the caves, the rainforest, and even the Mayan ruins. All guests receive transportation to the resort, three meals a day, and unlimited drinks. This includes beer and some of their mixed drinks. You can also select packages that include tours with exciting activities planned for you, and they even pack your lunch if you're spending the day away from the resort. There are also some subtle touches here that will bring more romance to your honeymoon, like the couple-sized hammocks on the beach.
These are just some of the leading all-inclusive resorts that can make your honeymoon dreams come true. Make sure that you get a list of exactly what is included in your all-inclusive package because most resorts will have some amenities that aren't included. This may require a call to the resort before booking your reservations.
Related Articles:
Home > All-Inclusive Honeymoon Options > All-Inclusive Honeymoon Vacations in Latin America