Beach Honeymoon Vacation Tips and Tricks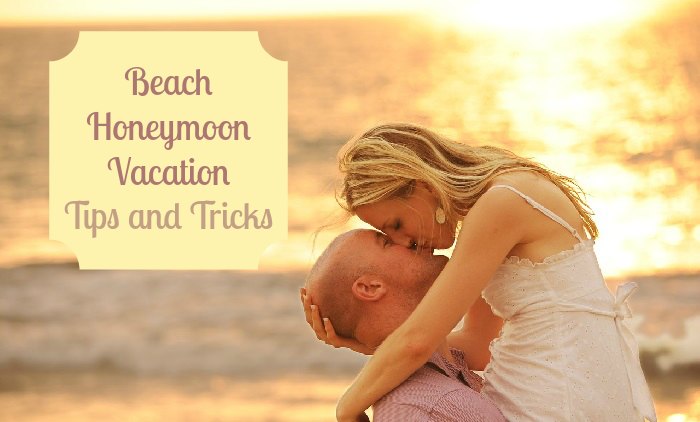 Your beach honeymoon vacation accommodations are booked, and you can't wait to sink your toes into the sand and get that chilled drink in your hand. 
Your bathing suits are packed along with your flip flops and a big bottle of sunscreen, but what are you missing? The following tips and tricks will help you plan, pack and prepare for a romantic trip to the beach.

Last-Minute Budgeting Will Backfire
Don't pay the down payment for your honeymoon accommodations and assume that you'll worry about paying off the balance and securing some spending money just before the trip. There are too many unexpected pitfalls that can throw off your financial plan between now and your departure date, and you don't want to risk losing your deposit or going on the trip with an empty bank account. If your honeymoon is part of your wedding budget, you're guaranteed to stay within your budget and show up with adequate funds to have a great time.

You Don't Need a Caribbean Budget
Don't assume that you must head off to the Bahamas or Turks and Caicos to enjoy your beach vacation. Pick a beach that's close to home, and you'll have more money to spend on romantic dinners, shopping trips, or a more luxurious resort.

Look Beyond the Hotels for Your Beach Honeymoon Vacation
You may stay in a hotel right on the beach for most of your vacations, but there are more romantic options for your honeymoon. Depending on where the beach is located, you can stay in a more private villa, rent a condo, or even spend the night in a hut directly over the water. From teepees to treehouses, there are a lot of adventurous options as well.

Plan Your Activities in Advance
Some activities will require you to make reservations, and you're likely to face booked schedules if you wait until you arrive for the honeymoon. You may also want to consider live entertainment and other free activities offered by your hotel or resort because it will help you keep your budget in control.

Use the Kitchen on Your Beach Honeymoon Vacation
Perhaps you don't consider cooking for one another romantic, but it's a great way to stretch your honeymoon budget so that you can afford a more luxurious candlelight dinner, a night of dancing and drinking, or a short cruise away from the shore.

The Water Stretches Beyond the Shore
While we're talking about cruises, consider adding one to your beach honeymoon. Round-trip cruises regularly depart from some of the most popular beach towns, and they'll add depth and romance to your vacation.

Consider Secluded Beaches & Private Islands
It's easy to plan a honeymoon to some of the larger and most common beach destinations, but you'll be there with many other couples and a lot of vacationing families. If you want to spend most of your time alone or you don't like fighting the crowds, head to one of the less popular Hawaiian islands or scope out some of the private island resorts around the world.

Armed with these tips, you're ready to sail away to the beach and play in the waves with the love of your life. This is one of the most relaxing ways to start your marriage, so set off in high spirits and return with a deeper bond.
Related Articles:
Home > How to Choose the Best Honeymoon Vacation > Beach Honeymoon Vacation Tips and Tricks