Best Honeymoon Destinations in Asia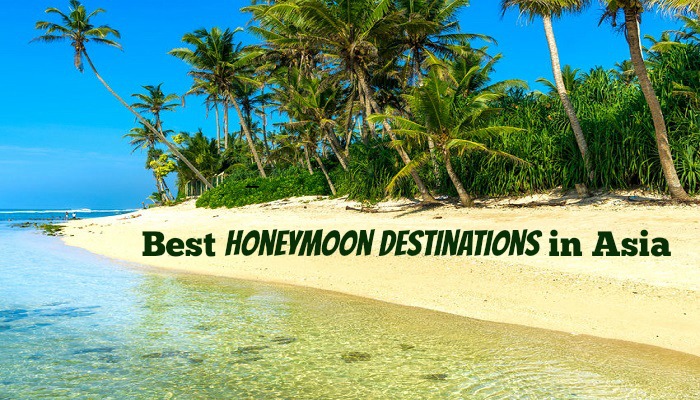 Honeymoon destinations in Asia can be absolutely amazing.  While Asia isn't typically considered a singular travel destination, such incredible diversity is found within the population that is great for a honeymoon. You have many options for planning an Asian honeymoon that fits your personality and delivers experiences that you simply can't gain anywhere else. The question is where you want to go and what you want to do while there.
Amazing Honeymoon Destinations in Asia:
Bali, Indonesia

Bali is often named the best Asian honeymoon destination for all couples, and for good reason. It's home to some of the most beautiful beaches, and couples can hide away in private villas. Rather than sunning with crowds of tourists during your summer honeymoon, you can spend your time on a private beach that rests just steps from your villa doorstep. Arrange for private transportation and concierge services, and you will have everything that you need for a passionate honeymoon. Just don't forget the spa services because there's nothing like a candlelight dinner on a private Bali beach or a couple's massage next to the water.
Sri Lanka
While it is one of the most beautiful honeymoon destinations in Asia, this is a small island nation that many newlyweds never think about for their honeymoon. But where else are you going to ride an elephant with your sweetie? You'll find some exquisite beaches on the island, but it's the local culture and cuisine that will make your honeymoon unique. Make sure to spend some time in the rain forests, and you may want to visit the Buddhist ruins. There are some small towns that will give you an unforgettable taste of life on this small island, but you can also get cozy in a luxury resort.
Langkawi, Malaysia
The white sandy beaches of Langkawi are perfect for holding hands and watching the sun come up for a new day or sink into the night.  That is why we think it is one of the most amazing honeymoon destinations in Asia.  While that's an important activity for any honeymoon, this island is also home to some stunning waterfalls and beautiful coral reefs. Resorts like Tanjung Sanctuary provide comfortable accommodations and romantic trip highlights, but you'll want to get out in the natural world for snorkeling or scuba diving. Don't forget the heart-racing experience of riding a local cable car before you leave.
Thailand's Islands
If you can't get enough of Thai food, then you will never get enough of the small islands located in Thailand. Beyond tasting authentic Thai cuisine and comparing to your favorite local restaurants back home, you'll enjoy beaches that aren't overrun with tourists. Look for small islands like Koh Lipe if you want a more secluded honeymoon that allows you to simply relax without running from one activity to the next.
Laos
This is a country resting in southeastern Asia, and it offers some amazing views of big mountains. Pick this destination for your honeymoon if you want to be mesmerized by the architectural beauty of the world's most fantastic temples. The waterfalls at Mount Phousi and Bolaven Plateau will grab your attention while the dolphins seen at Si Phan Don might make you want to stay forever. 
This list of the best honeymoon destinations in Asia gives you some ideas of where you might head on your honeymoon and what you may experience once you arrive. If more than one destination catches your interest, consider expanding your trip so that you can visit more of this fascinating continent.
Related Articles to the Best Honeymoon Destinations in Asia:
Home > Most Popular Honeymoon Vacations > Best Honeymoon Destinations in Asia