Caribbean Honeymoon Cruise Options Under $1,000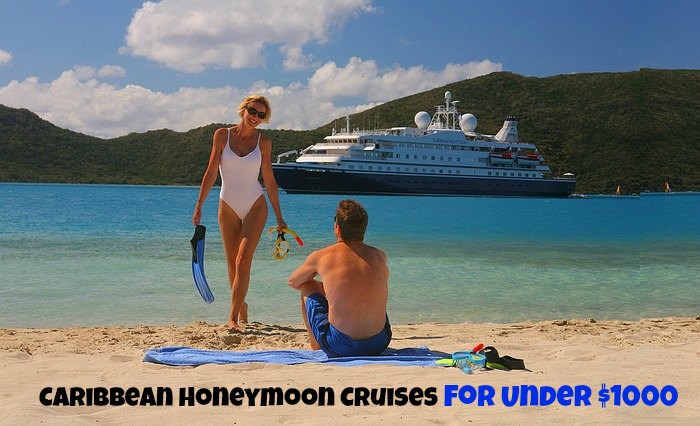 If you have $1,000, you can book a Caribbean honeymoon cruise that offers exciting off-board activities, spectacular views of the water, and delicious food.  Add a spacious deck for romantic moments, and you have everything that you need to get your marriage started off with intimacy and fun.
Our Budget-Friendly Caribbean Honeymoon Cruise Favorites:
To help you pick a honeymoon destination that suits your personal needs, we created a list of trips that will fit your budget.

7-Day Eastern Caribbean from Miami – Norwegian Cruise Lines
The average per-person price for this cruise is around $700. You embark and disembark from the port in Miami, Florida, and enjoy stops in the following cities:
Thomas – U.S. Virgin Islands
Tortola – British Virgin Islands
Nassau – Bahamas
There are many ways to enjoy these destinations without spending a lot of extra money, or you can opt to add off-board excursions that bring more excitement to your honeymoon. For instance, you can ride a catamaran out to St. John to snorkel off the shores of a beautiful island.
Eastern Caribbean Explorer – Princess Cruise Lines
This 8-day trip starts and ends in Ft. Lauderdale, Florida, and you'll enjoy off-board excursions in the following destinations:
Kitts - St. Kitts & Nevis
Antigua - Antigua & Barbuda
Thomas - U.S. Virgin Islands
Grand Turk - Turks & Caicos
The cheapest staterooms start at around $900 per person. Princess cruises can fill up fast, so it's best to book as soon as possible to make sure that the most affordable cabins are available. The reservation fee includes three meals a day and non-alcoholic drinks, including meals that you order through room service. There are some additional services that you can add on if your budget permits, such as dining on the balcony or sitting at the chef's table.
Western Caribbean from Miami – Carnival Cruise Lines
This cruise has other departure points, including one in Mobile, Alabama, but the rates are lower if you depart from Miami, Florida. The average price for interior staterooms is around $200 per person, making this one of the most affordable Caribbean cruises that you will find today. The advantage to booking one of these cheap cruises is that you'll have more money to spend on off-board excursions, shopping, and spa services on the ship.
This is a round-trip cruise that stops off in Key West and Cozumel, and the ship includes a long list of entertainment options. This includes a comedy club, water park, music studio, night club, golf course, and live game show. The spa is available for an additional charge.
While you can book any of these cruises for less than $1,000, keep in mind that you will need some money on the cruise. You may opt for upgrades while on the ship, and sometimes your adult drinks aren't included in the cost of the trip. You will need money for souvenirs and for some activities available on off-board excursions as well. Make sure that you can cover gratuities as well.
Related Articles:
Home > A Honeymoon Cruise Vacation >  Caribbean Honeymoon Cruise Options Under $1,000