Best Honeymoon Vacations for Second Weddings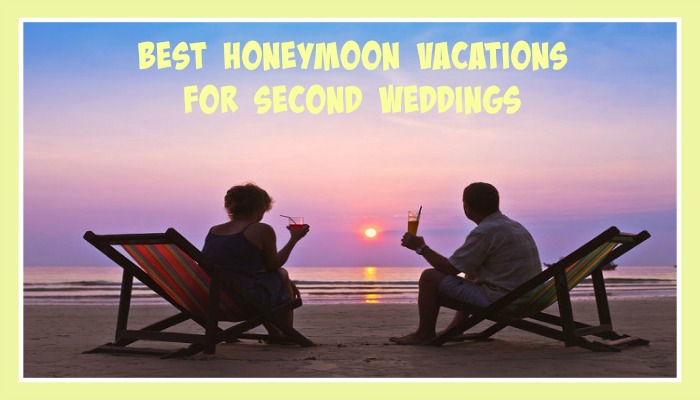 Finding the best honeymoon vacations for a second wedding may have different priorities than your first honeymoon.  Your choice for a second honeymoon destination will probably differ substantially from the decision that you made with your first wedding. You're a bit older now, and you know what you value and how you want to feel on this vacation. Perhaps you've already visited some of the hot spots typically chosen for honeymoon trips, so you're ready to choose something a little more adventurous this time around.

Best Honeymoon Vacations and Destinations:
 If you're ready to make this honeymoon the vacation of your lifetime, there are a few destinations and best honeymoon vacations that might top your list this time around.
St. Tropez, France

This is one of the most expensive and luxurious honeymoon destinations, so many young couples can't afford the trip. If you've gained financial stability through the years and want to pamper yourself to the extreme, this is where you go to live it up with sophistication. This is definitely the honeymoon that can beat any that you've enjoyed in the past, and you now have the experience needed to properly savor a trip of this caliber.
This is one place where you can stay in the most spectacular hotels and wander the beaches for days, but St. Tropez also allows you to explore interesting cobblestone streets in the fishing quarter and sip rich wine while watching the locals play in the streets or the yachts line up in the harbor. This is a small fishing village full of charm, and it will remind you of the peaceful life that few people get to enjoy today.
Most importantly, this is a honeymoon destination that gives you permission to wander lazily, doing only what feels natural and right at the moment. Perhaps it's just the right tone for your ideal second honeymoon.  Get the best prices here...
The Spa Village Resort of Tembok, Bali
If you want to feel as if you've been transported to another world, this is the honeymoon destination for you. The adult-only resort offers private villas as well as spacious suites, and you'll want to spend time taking in the large balconies and comfortable décor. While you can book a sunset cruise and spend your time nestled into the sand while taking in spectacular ocean views, this is also a wellness resort that offers a variety of holistic retreats. Consider taking in a yoga or meditation session to get in touch with the spirit of the local culture.   Get the best deals here...

Seychelles
You'll find this collection of more than 100 islands off the shores of East Africa. Some of the world's most unusual animals inhabit these islands, so this is the perfect honeymoon escape for photographers, bird watchers, or anyone interested in seeing animals in their natural habitats. You'll also find secluded beaches and numerous nature reserves on the islands, so it's a good place to go if you simply want to get lost in a new world with permission to do nothing at all.
For the ultimate Seychelles experience, head to Mahe Island and take a private helicopter to one of the private islands. These small islands feature their own resorts, so you can hole up in an exclusive villa while being served gourmet meals and drinks on demand. North Island is one of the most popular options, but Fregate Island is another good option.
You have the freedom to go anywhere in the world for your second honeymoon. Take advantage of that freedom by going somewhere that you could have only dreamed about visiting when you walked down the aisle the first time around.  Find the best prices here...
Related Articles:
Home > Top 10 Honeymoon Tips and Tricks > Best Honeymoon Vacations for Second Weddings