Why Destination Honeymoons and Weddings Are Popular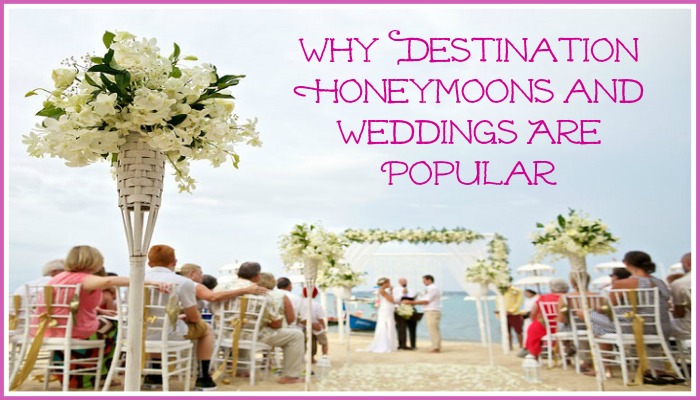 Destination honeymoons and weddings are becoming more and more popular these days.  Are you wondering why so many couples are now choosing to have their weddings far away from home even though it often means that a few of their family members and friends are unable to attend? Most couples find that their loved ones are more than willing to reschedule their personal lives and make financial sacrifices to hit the road along with them, and there are many other benefits to taking the wedding to a more luxurious locale.

The Lure of the Casual Wedding
While it was once the norm for couples to tie the knot in a sophisticated church, many couples now prefer a more relaxed, casual wedding environment. They want to walk down the beach barefoot rather than wearing heels down the center aisle. Brides want to let their hair down and feel less pressure as they prepare to meet their spouse at the end of that aisle. Men want to party and have a good time without worrying about traditional rules.

Sharing the Good Times
Is there any better way to ensure that everyone has a great time than to have the wedding in a luxurious location? Many couples now want their bridal party and guests to have just as much fun as they're going to have on their honeymoon, so they turn their wedding into a vacation for everyone able to make the trip.

Some couples may even find that more of their loved ones want to attend the wedding since there's something in it for them. It transforms the wedding planning process from a chore to something that everyone looks forward to enjoying.
The Instant Destination Honeymoon
Traditional wedding ceremonies are losing their appeal to many couples. They don't want to go through a formal ceremony followed by a short reception and then leave quickly for their honeymoon. Some couples want to make the entire event a celebration, and taking it to a luxurious destination allows them to feel like they're on vacation before the ceremony even occurs. Their honeymoon starts before they even say "I do" in a sense.

If you decide to have a destination wedding and you want your destination honeymoon in the same location or somewhere nearby, you don't have to leave your loved ones to rush for the airport. You can enjoy your wedding day and then slip right into your honeymoon without taking time out for travel. This can make a difference in how much energy you have when you get to your wedding, so you spend more time enjoying your spouse and less time trying to catch up on sleep.
A destination wedding may also allow you to spend more time with your friends and family members, since they're in your honeymoon hot spot as well. Of course, you can still reserve lots of time to slip away with your spouse and enjoy the romance that every proper honeymoon should contain. You just get to enjoy those moments on your own terms while knowing that your loved ones are enjoying the adventure just as much as you.
Destination Honeymoon Related Articles:
Home > Top 10 Honeymoon Tips and Tricks > Why Destinations Honeymoons and Weddings Are Popular