Tropical Honeymoon Destinations without Zika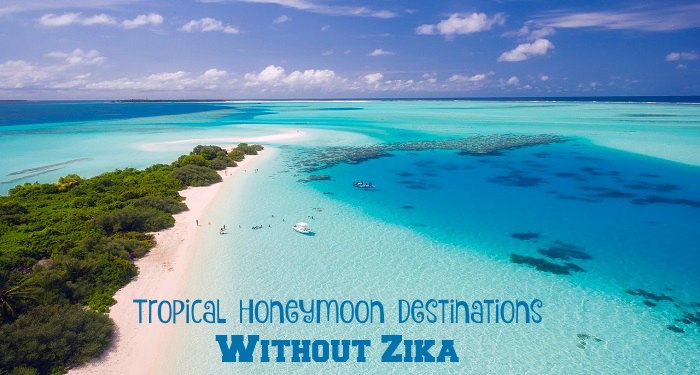 When you think of tropical honeymoon destinations, the sandy beaches that stretch on as far as the eye can see. The crystal blue waters splashing along the shore. 
Brilliant sunshine fading out to spectacular sunsets. The pretty trees and colorful flowers. The elegant dining tables filled with fresh fish and other foods pulled straight from the sea. There are so many reasons to look forward to a tropical honeymoon, but you also have to think about the potential for a Zika infestation.
This virus has caused fear and alarm around the world as outbreaks occur even in the United States. One little mosquito bite could send you home to battle for your life rather than enjoying your life as a newly married couple. That's why it's so important to find honeymoon destinations that are Zika-free.
Start by checking with the Center for Disease Control and Prevention to learn about new outbreaks around the world. This is a little shocking because most of the world has now reported some level of outbreak, but that doesn't mean that the entire world is infested with Zika-carrying mosquitos and you should just stay home. It means that you should avoid tropical locations if you're pregnant and you should educate yourself about the level of outbreak occurring in any destination that you consider visiting. Don't just look into the country. Research the city where you will spend your time and pay attention to the level of caution recommended.
A Zika-Free Honeymoon Tropical Honeymoon
To help you plan a Zika-free honeymoon, we did our research and came up with some tropical areas where you may enjoy your vacation without worrying the entire time about mosquitoes. This information can change at any time, so make sure to do your research before booking your trip. This is especially important if you're pregnant.

Amalfi Coast, Italy: The risk of a Zika infection in Italy is moderate in the summer months and even less likely the rest of the year. You can capture the clean waters and sandy beaches of a tropical vacation on the Amalfi Coast, plus there are so many other things to enjoy in Italy that you may find this location even better than the typical tropical destinations.
The Maldives: While there have been cases of Zika in the Maldives, it's nothing new to this area of the world and it hasn't amounted to a massive outbreak amongst tourists or locals. The CDC estimates that the risk is lower here than in many other tropical locations, but you still want to protect yourself against mosquitoes during your visit.
Oman: Experts believe that it's unlikely for a Zika outbreak to hit Oman, so consider planning a honeymoon on the coast in Muscat. You'll have direct access to the water and the sand, but the mountains are also ready for your exploration.
Most destinations in Caribbean and the Pacific Islands have experienced Zika outbreaks and are currently under level two warning. This means that you should take extra precautions to protect against mosquito bites while visiting those locations. If you're pregnant or have other reasons to worry about Zika, you may want to look into alternative destinations.
Related Articles:
Home > Top 10 Honeymoon Tips and Tricks > Tropical Honeymoon Destinations without Zika