Top Romantic Spa Vacation Destinations in the U.S.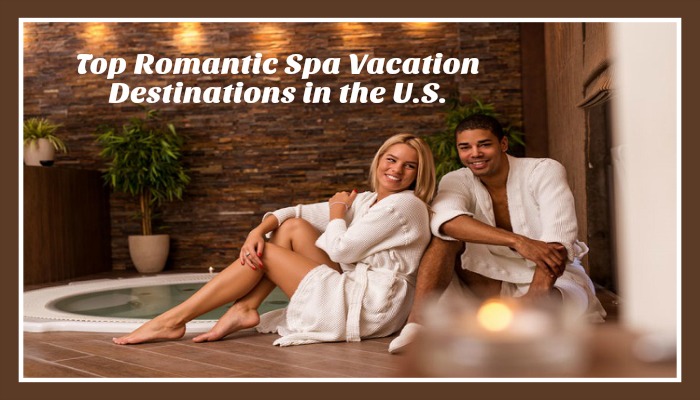 When romance is your primary goal for a vacation, you can't go wrong with a visit to a spa for a romantic spa vacation. 
Everything that you need to relax and spend quality time with your partner is in one convenient place. You can hide away in a private room, venturing out only when you're ready to be pampered or to explore the natural surroundings of the destination.
We're talking about amenities that range from in-room Jacuzzi tubs, champagne, chocolate and roses to waterside massages and intimate couple's treatments.
Best Romantic Spa Vacations:
Whether you're trying to reignite the passion in a long-term relationship or you're intoxicated by a fresh, new love, these U.S. spa vacations will give you many reasons to fall in love all over again.

Oceana Hotel & Spa – Half Moon Bay, California
Many couples dream of having their wedding at this spa, but you can book a romantic weekend or plan a spontaneous mid-week romp at any time. With arched hallways, stone walls, plush furniture, and ambient lighting, you'll feel the stress drift away the moment you step into the spa. They only use high-quality products with all-natural ingredients, and professionals can blend customized essential oils that appeal to your unique senses and wellness needs.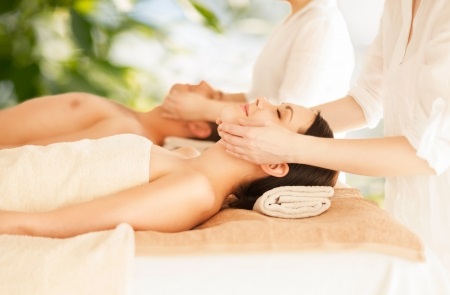 You can take advantage of a massive fitness center or limit your stay to the relaxation lounge, the deep-soaking tubs, and the massage therapies designed to heal and rejuvenate your mind and body. If you want to plan a well-rounded trip that includes some excitement, step outside the hotel to enjoy a variety of activities like golfing, sailing, surfing, horseback riding, deep sea fishing, or simply relaxing on the beach. When you're ready for a more intimate setting, cuddle up in your private suite or villa with a fireplace, private balcony, and other romantic amenities.  

Dahlonega Spa Resort - Dahlonega, Georgia

If you want to tuck away in a secluded cabin without telephones and televisions to interrupt the romance, book a cabin at this spa resort. Sit out on the porch and enjoy views of beautiful woodlands that stretch on for miles, and then take the short walk up to the main inn for spa services and top-notch cuisine. A variety of massages and body treatments are available, and you can book them with your accommodations so that you know what to look forward to on your trip. You can even request a couple's massage in the privacy of your cabin.
If you want to stretch your legs, go for a stroll around the property or request a more vigorous hiking location. Tour the vineyards and enjoy a wine tasting session, or ask about the waterfall hiking adventures. Even walking through the town of Dahlonega is a romantic experience with this romantic spa vacation.
Red Mountain Resort – Ivins, Utah
Do you equate romance with adventure? You can blend a variety of traditional spa services with exciting activities when you book a stay at this southern Utah resort. It's located amongst rocky red cliffs, black lava gardens, and scenic canyons with mountains in the distance, and you won't have any problem getting an adrenaline rush with your sweetie. The full-menu spa and salon will take care of your tired, achy muscles while you pick from a smorgasbord of activities with the guidance of the adventure concierge team.
Healthy life classes, guided hiking and biking sessions, fitness classes, cooking demonstrations, and a spiral labyrinth are all part of the experience. You also get three healthy meals with your accommodations, and you can choose a private villa if you want a more intimate setting. With three whirlpools and swimming pools indoors as well as outdoors, you don't even have to head out on an adventure to do something relaxing with this romantic spa vacation.
While the amenities and accommodations offered by a spa may get your attention, think about the time of year that you want to visit. Some destinations are better in the summer or winter while others are suitable at any time. You don't want to visit in the wrong month and find that the activities that you wanted to enjoy aren't available until later in the year.   Look for the best prices on any of these great options here... 
Related Articles:
Home > Romantic Honeymoon Vacations > Top Romantic Spa Vacation Destinations