Top 5 Most Romantic European Vacations for a Honeymoon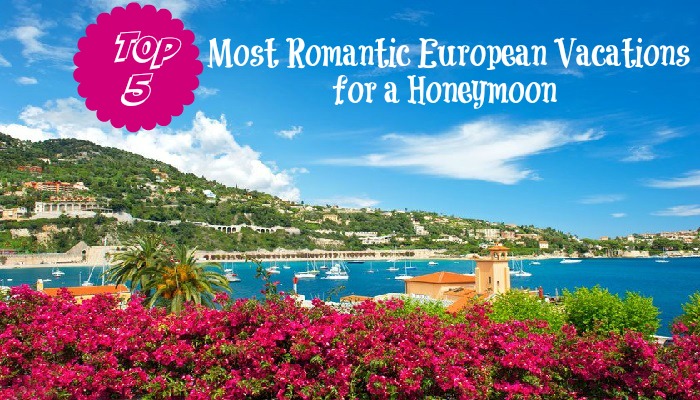 Romantic European vacations are amazing whether you imagine your honeymoon playing out like a fairytale or you simply want to see something exciting and to do something new.  From castle and spectacular architecture that you can't see anywhere else to steamy beaches that instantly put you in a romantic mood, there are many options for a European honeymoon vacation.
Our Top 5 Romantic European Vacations for Two:
This list will introduce you to five options for romantic European vacations, but there are many others that you may want to consider:
1.  Salzburg, Austria
The city known as "Salt Fortress" is commonly visited for its rich Baroque architecture and the snow-capped mountains in the surrounding environment. Mozart was born here, and "The Sound of Music" was produced with this city as the backdrop. If you do nothing but walk around and enjoy the sights and sounds you'll find romance, but don't let it end there.
Hold hands while you browse the "Old Town," also known as Salzburger Altstadt. This is a popular tourist attraction, so make sure to escape the crowds by taking a cable car to the top of Untersberg Mountain or touring the streets after dark in a horse-drawn carriage. You may also want to tour some of the famous landmarks, including Hellbrunn Castle, Mirabell Palace and Gardens, and Salzburg Fortress.
For accommodations on your romantic European vacation, there are many romantic hotels in Salzburg. Hotel Schloss Monchstein offers romance and privacy, but other popular options include Hotel Goldener Hirsch and Hotel & Villa Auersperg.  Get the best prices here...
2.  Nice, France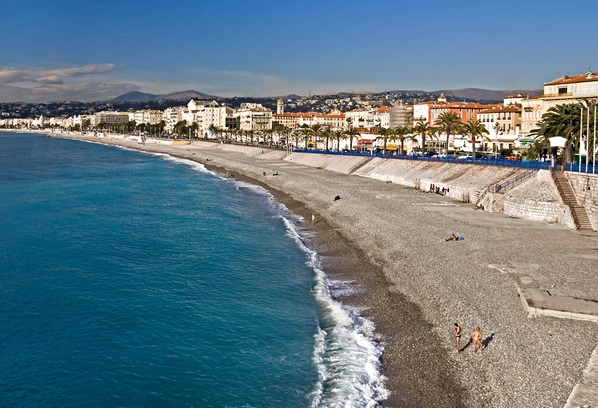 Positioned on the shores of the Mediterranean Sea, this small coastal town is perfect for couples interested in lounging on beautiful beaches, capturing spectacular sunset views, and indulging in some of the best food in the world. The Musee Matisse is a must-visit destination for music lovers, and the French Riviera is the go-to beach spot for all in search of romance.

You can also climb up La Colline du Château, otherwise known as Castle Hill, for sweeping views that will give you a new appreciation for Nice. Some remains of the castle that once stood on this hill remain, and it's the perfect place for a romantic picnic. For art and history lovers, make sure to browse Musee Marc Chagall for Biblically-inspired artwork, Musée des Beaux-Arts de Nice for additional artwork, and the many museums dedicated to the city's historical roots.  Get the best prices here...
3.  St. Moritz, Switzerland
For active couples interested in enjoying the great outdoors in a new setting, St. Moritz is heaven any month of the year for a romantic European vacation. In the winter, the town turns to the snow-covered hills for skiing, bobsledding, and some little-known amusements like snowkiting. Beyond the snow, popular activities include hiking, kitesurfing, windsurfing, and simply relaxing by Lake St. Moritz and Lake Sils. For a memorable experience, you can hike at Lej da Vadret, which is a lake positioned right below Roseg Glacier.
The easiest way to honeymoon in Moritz is to book accommodations at a luxury resort like Badrutt's Palace. You'll enjoy immediate access to outdoor ice skating rinks, snow trails for all skill levels, restaurants, spa services, and many other amenities. You can experience St. Moritz from one well-maintained location.  Get the best prices here...
4.  Dubrovnik, Croatia
Sitting on the Adriatic Sea in southern Croatia, this little town will fill your soul with romance even if you do nothing but walk around the 16th century stone walls that encircle the city. Find the Stradun when you're ready to browse through small shops and find something to eat. Tour the city for the beautifully preserved architecture that spans multiple historical periods. Definitely visit Fortress Lovrijenac for spectacular views of the sea from up high.
When you want to escape the crowds, head off to an island known as Mljet. Much of the island is still covered in Mediterranean forest, but the beaches are covered in white sand and the water is unbelievably pure and clear. From exploring an old Benedictine monastery and swimming in blue waters to enjoying goat cheese, wine, and olives straight from the island, this is a must-see honeymoon spot.  Get the best prices here...
5.  Budapest, Hungary
Do you want to spend your honeymoon soaking in geothermal hot springs and tasting food that you never even knew existed? Head to the capital of Hungary, which is split in two by the River Danube. On one side is Buda, and on the other is Pest. Small islands dot the water in between, and the Chain Bridge connects everything together. Besides enjoying spas that offer indoor and outdoor thermal baths, enjoy the historical roots of this city by visiting Buda Castle, Hősök tere, St. Stephen's Basilica and the House of Terror.
Hold hands while browsing the massive Great Market Hall. Dress up and spend a night at the Hungarian State Opera House. Live out your fairytale by boating on the lake surrounding Vajdahunyad Castle. For outdoor enjoyment, head off to the parks on Margaret Island for some alone time.  Get the best prices here...
If more than one of these romantic European vacations are perfect for your honeymoon, consider extending your trip and visiting multiple destinations. Depending on your budget and the deals that you manage to snag, you could create a whirlwind vacation that sets your marriage up for romantic success.
Home > Top Romantic Honeymoon Vacations >  Most Romantic European Vacations for a Honeymoon