Honeymoon Trips to Greece are Amazing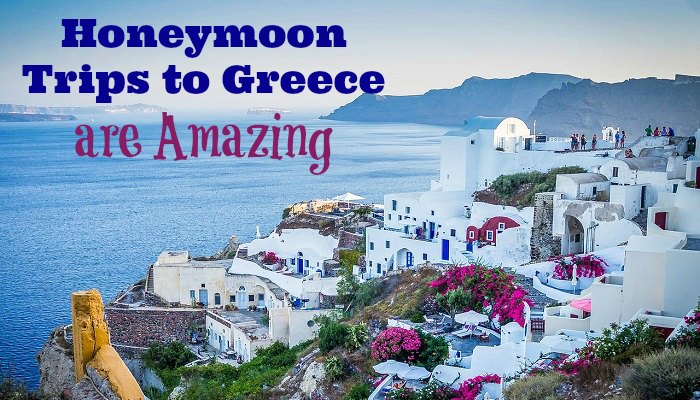 Take everything that you could imagine doing on honeymoon trips and shove it into one location. 
From romantic walks on picturesque beaches to hikes through the mountains and nights spent in elaborate castles, Greece can deliver it all. With a favorable climate that keeps you warm but not overheated regardless of the season and a variety of landscapes that will keep your camera snapping pictures day after day, there are few honeymoon destinations that can match this one.

Head Off to the Islands
The Greek Islands are home to some of the most stunning beaches in the world, and the intrigue goes much further than miles of sandy beaches and crystal blue water. You'll see turtles basking in the sun, beautiful forests providing cool canopies, and mountains rising up in the distance. Consider honeymooning on islands like Kefalonia and Lefkada if you want to avoid the crowds that often flock to popular islands like Shipwreck Bay.

Dream-Worthy Luxury Accommodations
If you want to be pampered and treated like celebrities on your honeymoon, you'll get all that you're asking for and much more at some of the luxurious hotels and resorts in Greece. If you need help selecting the perfect spot for your upcoming honeymoon, consider the following options:

Volcano View Hotel in Santorini: This hotel is positioned up in the Caldera cliffs, and even the standard rooms feature beautiful views of the cliffs and a private balcony or terrace. The junior suites feature jacuzzi tubs and views of the volcano, and this is the recommended accommodation for honeymooners. There are three swimming pools on the grounds, the restaurant provides stunning views of the cliffs and the volcano, and you can order candlelight massages under the stars.
Alta Vista Honeymoon Suites: This is another hotel in Santorini, but the services are dedicated exclusively to honeymooners. There are only five suites on the property, and they're tucked into the hills facing the sea. This is the perfect place to plan your honeymoon if you want to feel secluded from the rest of the world with paradise right outside your window. You can eat outdoors in a cave, sign up for a massage and mani/pedi, or arrange for a hairdresser or makeup artist to visit your room in preparation for a romantic dinner. You can also coordinate with concierge to set up customized experiences ahead of time.
Laguna Exclusive Resort & Spa in Crete: Cuddle up in a bungalow, or reserve the Presidential Suite and enjoy the private swimming pool, two bathrooms, and a full living room. Your jaw will drop in amazement as you enter the golden lobby and take in the upscale beauty of every room. From a wellness center and spa to a theater and tennis court, the grounds will keep you entertained for days. You can even enjoy some unusual activities like gymnastics, water polo, darts and soccer.
Keeping Honeymoon Trips Classic
Do you want to do something unique and intellectually rewarding on your honeymoon? You can book a classical tour of Greece that takes you to some of the most noteworthy archaeological sites, including Olympia and Delphi. Not only will you learn a lot while on this type of trip, but you'll get to step away from many of the traditional tourist sites to see aspects of Greece that many honeymooners never get to experience.
Greece offers a little something for everyone, so it's easy to create an itinerary that accounts for your interests as well as those of your spouse. Whether you stay at one resort or move around to see multiple Greek locations, you are destined to return home pampered to satisfaction with some amazing photos in hand.
Related Articles:
Home > Most Popular Honeymoon Vacations > Honeymoon Trips to Greece are Amazing