Honeymoon Destination Planning by Season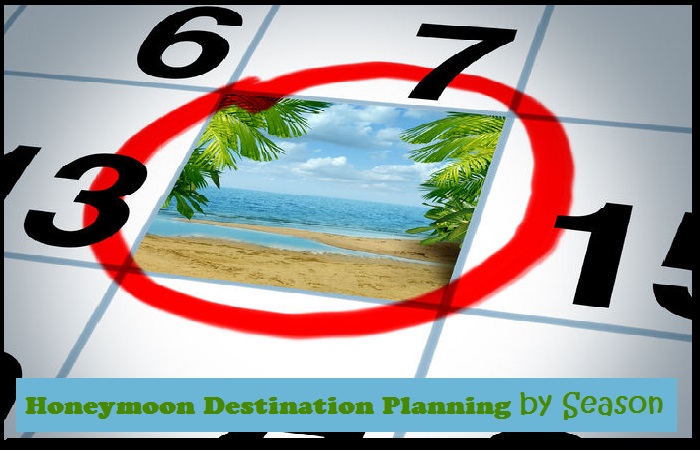 During honeymoon destination planning, the weather patterns in your hometown are less important than the weather patterns at the destination. You can save some money by traveling in the off-season, but you're not likely to enjoy the trip if you go too far outside of the shoulder season. The shoulder season includes short periods of time that occur just after or before peak season. These times will fall at different times of the year, depending on where you want to honeymoon.

Seasonal Honeymoon Destination Planning Times:
Summer

You may think that this is the best time to hit sunny honeymoon destinations like California, Florida, Hawaii, and the Caribbean, but many of these destinations are overrun with tourists and extremely hot during the summer months. You may also have to contend with hurricanes in the Caribbean. Consider heading to Europe, Canada, French Polynesia, Britain, Ireland, or the Maldives instead.
Spring
The spring months generally fall between March and June. This is a good time to hit the Bahamas or the Caribbean, and many of the Florida and California beaches are heating up quickly. Mexico, Costa Rica, Morocco, Spain, Fiji, and many other popular destinations will offer beautiful weather for spring honeymoons. About the only location that you don't want to visit in the spring is southeast Asia, since the temperatures are extremely hot at this time of year.
Winter
The winter season is often defined as October through February, though October is still prime fall weather in many locations. These cold months are perfect for honeymoons at ski resorts in the United States, Canada, and many other countries. October and November are good months to visit Hawaii, and you can put the Bahamas on your calendar for November through early spring.
You may also pick December through February for your Caribbean honeymoon if you want weather more in the 70s than high 80s. Even though some of the attractions may be closed, you can visit Florida in early winter and still enjoy hand holding on the beach, boating and many other adventures. Las Vegas and other destinations that involve indoor activities are suitable for winter as well. Finally, winter is the best time to visit southeast Asia.
Fall
This is a good time to head into the mountains to hideaway in a cabin or to camp out in a national forest. Watch the trees change colors. Cuddle by the campfire. Light the fireplace in your suite when you retreat for alone time. Many warm locations will offer reasonable prices and beautiful weather if you want to hold hands at the end of the fall season.
If your preferred honeymoon activities don't line up well during the season of your wedding, consider taking your honeymoon at a better time. There is no rule that says you must depart for the honeymoon immediately after the wedding. It's more important to go at a time that makes sense for your destination than to follow old-fashioned customs. Plus, planning the honeymoon at a later date will give you more time to recover from the wedding financially and to save up for the honeymoon.
More About Honeymoon Destination Planning:
Home > Planning a Honeymoon > Honeymoon Destination Planning by Season