Why Plan Honeymoon Expenses into Your Wedding Budget?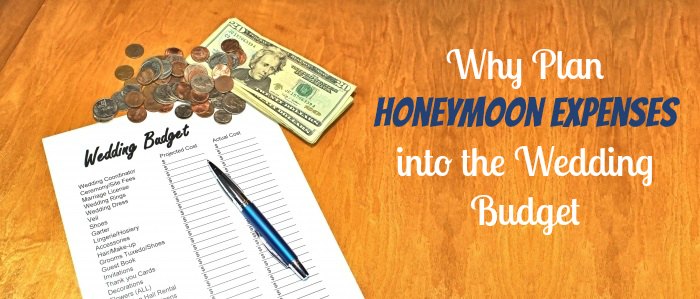 When you start thinking about how much money you can afford to spend on the wedding and plan honeymoon expenses, the excitement of the engagement ring tends to wear off rather quickly. You may think that your biggest expenses include reservations at the venue, your dress, the cake, and food for the reception, but the price tag on your honeymoon can easily surpass all of those expenses. This is why it's so important to think about your honeymoon upfront rather than leaving it to the end.

It Keeps Your Focus on Reality
Many brides don't want to include the honeymoon in their wedding budget because it inflates the overall budget. They simply don't want to feel guilty about the amount of money that their wedding is going to cost, or they don't want to accept the fact that they're spending far more than is smart for their financial situation. 

In reality, your honeymoon is a part of your wedding. It is an expense that goes along with saying "I do," and you shouldn't ease your own guilt by distorting reality. If you see the total figure, it may help you scale back on some expenses to keep the overall budget realistic for your financial situation. The last thing you want is to come home from the honeymoon to a financial disaster.
It's Less Stressful to Plan Honeymoon Expenses Upfront
You have to budget for your honeymoon one way or another. If you don't include it in your wedding budget, then you'll have a separate budget to plan and track. The problem is that you aren't likely to have a separate source of income to cover those expenses. This means that you have to plan two budgets while ensuring that you don't overextend the money that you have available for the overall experience. This gets confusing, and you're more likely to forget about an expense and overspend this way.

When all of your expenses are in one place, you can easily track how each expense is going to get covered. You don't have to worry about forgetting expenses that are in another budget plan, and you're more likely to stick to your budget overall.
You Can Crowd Source the Honeymoon
If you plan in advance, you can give your wedding guests the option to contribute to your honeymoon rather than purchasing random gifts. Set up a registry with services like HoneymoonWishes.com or HoneyFund.com, and use it to tell the story of your romantic connection. This will fill your guests with love and excitement while allowing them to ease the financial burden so that you have a better honeymoon vacation.

Your honeymoon may come after the wedding in sense of time, but it should never come last in the planning and budgeting process. Enjoying that special time with your new spouse is just as important as saying "I do" in a beautiful setting and celebrating with the most important people in your lives. The more time you give yourself to plan and save, the more you're likely to enjoy the honeymoon and come back refreshed for the next phase of life together.
Related Articles:
Home > Planning a Honeymoon > Why Plan Honeymoon Expenses into Your Wedding Budget?