Top Honeymoon Locations with Exciting Nightlife
You may have a good idea of what you want to do during daylight at many of the top honeymoon locations and what amenities you want in your honeymoon suite, but what will you do when the sun goes down? You can probably think of many indoor activities to enjoy in the dark, but what about getting out to enjoy a club or to dance the night away on the sandy shores? What about ghost tours and bonfires?

Our Top Honeymoon Locations for After-Dark Fun:
There are many honeymoon destinations that will ensure the fun doesn't go down with the sun, and this list will introduce you to a few of the best options.

Las Vegas
How do you not put Las Vegas on any list that involves nightlife? There are some amazing luxury hotels in this city, and the party never dies in the heart of the city. You can spend your nights rolling the dice and your days hiking the Valley of Fire or kayaking down the Colorado River. And don't forget the exciting shows because they're the perfect way to set the mood for a little fun back in your room.

San Juan, Puerto Rico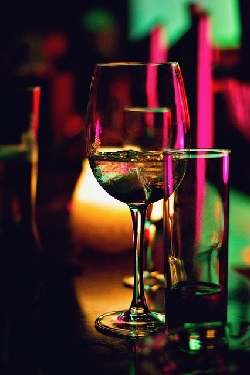 Spend your days sightseeing and shopping in Old San Juan and your nights sipping cocktails at The Parrot Club or partying at Circo Bar. This city is popular with college students during spring break because there are so many bars and nightclubs to enjoy after dark. There are a variety of historical sites and museums to add a little culture to your honeymoon, or you can simply relax at a resort until it's time to party.

Port of Spain, Trinidad & Tobago
This city does more than provide some hot spots for nightlife. They add food trucks open for business at the darkest hours. You'll never go hungry as you dance the night away, and you won't starve for entertainment during daylight hours, either. Shake off a night of drinking by relaxing on the beach at Maracas Bay or taking in the beauty of Caroni Swamp. You may also want to take a boat tour of the Caroni Wetlands or fly through the trees on a zipline.
Montego Bay, Jamaica
One of the top honeymoon vacations, this spot let's you spend your days relaxing on one of this city's stunning beaches, and head to Gloucester Avenue for the nightlife. You can enjoy a theatrical show, listen to live jazz, or simply drink it up at one of the many bars located on this street. Doctor's Cave Beach Club is quite popular, but you can also visit Dead End Beach and many other daytime hot spots.
Miami, Florida
If you don't want to head too far away from home, Miami offers some of the best beaches in the United States plus an active nightlife scene. Some of the leading after-hours hot spots include Club Space, Ball & Chain, and Purdy Lounge.
Honolulu, Hawaii
Book a room at RumFire Waikiki, and you'll have a hopping nightclub and amazing restaurant right in your hotel.  During the day, hike up a volcano at Diamond Head or go snorkeling at Hanauma Bay. Honolulu is also home to some historical sites, including the ʻIolani Palace and the USS Arizona Memorial.
Whether you're night owls or you simply want to make the most of your honeymoon by enjoying activities around the clock, it's important to keep some unscheduled blocks of time in your itinerary. If you drink or dance the night away at one of these top honeymoon locations, make sure that you don't have early reservations the next day.
Home > All-Inclusive Honeymoon Options > Top Honeymoon Locations with Exciting Nightlife