Planning Your Honeymoon at the Last Minute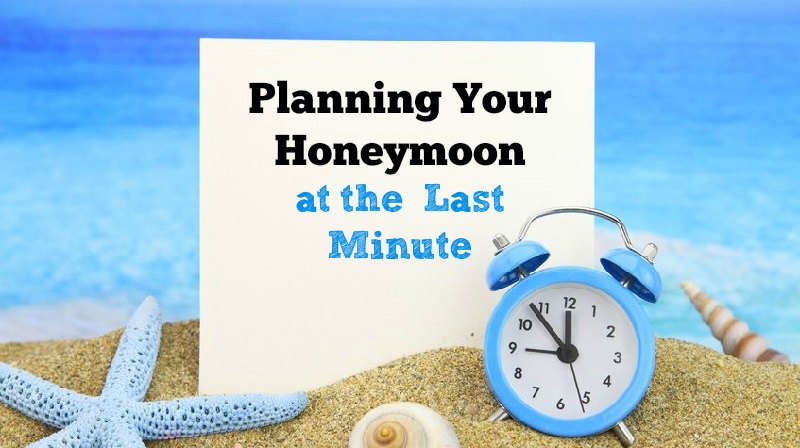 The basic wedding planning process and planning your honeymoon ultimately come down to answering a series of questions.
The Planning Process:
Where do you want to go?
What experiences do you want to enjoy while there?
When do you want to travel?
How long can you afford to stay?
What type of accommodations fit your needs?
When you start planning at the last minute, there are more details to think about when answering each of these questions. Here is a quick checklist to get you thinking about issues that come up with last-minute trips:
Where do you want to go? Many of your top honeymoon destination picks may not work at the last minute because you may not have time to secure your passport, your preferred hotel or resort may be fully booked, or you may find the airline tickets too expensive. Some of your top picks may also not be great choices for your season of travel, and you don't have the luxury of picking the date according to the destination when you plan just before departing.

What experiences do you want to enjoy? If your last-minute trip is in the off season for your desired destination, you may find that many of the attractions and activities are closed or restricted due to weather. Some experiences are exclusive to particular seasons, so your last-minute trip must align with snowy weather for a ski vacation or sunny weather for a beach vacation packed with surfing and other water sports. If you want to enjoy activities that require advance reservations or you're hoping to dine in upscale restaurants that may book up fast, you'll have to call around to see if you can get the reservations that you need during your travel dates. 


When do you want to go? You may have set dates that you're free to travel, or you may decide to take a last-minute honeymoon because the airline is offering a great discount for last-minute bookings. You may pay more for your airfare or you might get a great discount when booking on short notice. It all depends on where you're going and how desperate the airlines are to fill those seats at the time that you want to travel. If you have some flexibility on dates and times or are willing to fly on standby or accept layovers, you may get a good last-minute deal. 


How long will you stay? The length of your trip may be limited by the availability of your hotel or resort, and some resorts have a minimum number of nights that you must stay. You also have to think about arranging for time off work, finding last-minute childcare if needed, and generally clearing your calendar so that you have time for an enjoyable honeymoon. The less time you have, the closer to home you want to stay. 


What type of accommodations fit your needs? This comes down to whether you want to stay in a budget hotel, a luxury resort, a secluded villa or a cabin in the middle of nowhere. You may have to compromise some when booking at the last minute because the most desirable rentals will likely be reserved already. That said, you never know when you'll get lucky, so it doesn't hurt to call your top picks to see if someone has cancelled at the last minute or they aren't fully booked as expected.
The Order of Things When Planning Your Honeymoon
That's a lot to think about, but if you work through the checklist one question at a time, you can start planning your honeymoon on short notice and still have an enjoyable time. Whether you start by finding affordable airfare or securing reservations at a hotel or resort depends on your circumstances. If you're traveling last minute because you found a good deal on airfare, then you may want to steal that deal while you can and then go back to answer the remaining questions and find suitable lodging.
On the other hand, you may want to start with finding the perfect accommodations in the best location and then do your best to find affordable airfare. If you're on a tight budget, consider staying close to home because it's much cheaper and easier to rent a car last minute than to fly.

Related Articles about Planning Your Honeymoon:
Home > Planning a Honeymoon >  Planning Your Honeymoon at the Last Minute