Inexpensive Honeymoon Tips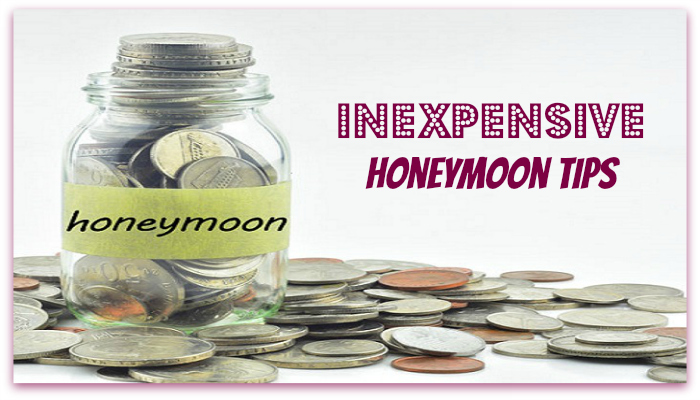 These inexpensive honeymoon tips help to make it so that your vacation plans don't have to lack romance or break the bank. 
You can spend quality time with your new spouse virtually anywhere, but a location close to the beach or hidden in the mountains will only make it easier to relax and enjoy your time away from the "real world." If you're planning an less-expensive honeymoon, these tips will help you get more for your money.

Ten Tips for Getting the Most Out of an Inexpensive Honeymoon:
Not all inexpensive honeymoon packages are a good deal. Some resorts and hotels will add flowers, chocolates, or other inexpensive luxuries while charging far more than those items are worth. You get an added touch of romance perhaps, but you could buy your own flowers and pay much less. The best packages are those that give you an extra night, a more spacious suite with a private hot tub, or spa services that aren't usually included in the stay.
Get into the local cuisine. Ask someone who lives in the area where locals go to eat on the cheap. Even if you're staying in an upscale hotel with a restaurant included, you'll enjoy better food and pay much less for it if you venture away from typical tourist hot spots.
Pack your own snacks and bottled water, and take advantage of granola bars, cereal packs, and other portable food items offered at your hotel's free breakfast buffet. Stopping at a street cart or going into a restaurant for snacks and drinks will add up if your trip is longer than a day or two.
Consider the value of the dollar.

If

you visit an area of the world where the dollar still trumps the local currency, you're going to spend less than you would for the same goods and services in a country where the dollar is weak.
Don't assume that a travel agent will know everything about your destination. They can't always give you the best deals, but they will lead you to believe that you're getting an unbeatable bargain. It's best to work with a service with connections around the world so that you know you're saving money without comparing prices on five or more websites.
Don't leave planning to the last minute. The more time you have to shop around, the more likely you are to catch the lowest prices. Many airlines, hotels, resorts, cottages, and villas will also give discounts to those booking accommodations in advance. The only time that you should book last minute is if you find a steep last-minute discount and decide to take an impromptu honeymoon.
Never assume that you have to leave for your honeymoon the moment your wedding reception is over. You may get a better deal if you're more flexible with your travel dates, and you'll appreciate a day or two to relax in a local hotel or at home with your spouse. You'll save money while entering your honeymoon better rested.
As you're searching for the ultimate cheap honeymoon deal, remember that nothing comes for free in our world. There are some honeymoon scams that will take advantage of couples eager to enjoy a luxury vacation without paying gourmet prices. If you remember that there is no such thing as a "free" honeymoon, you'll avoid the scams while finding a deal that delivers romance, relaxation, and excitement without costing too much.
Related Articles:
Home > Discount Honeymoons and Romantic Getaways > Inexpensive Honeymoon Tips