Honeymoon Vacation Spots for Snorkelers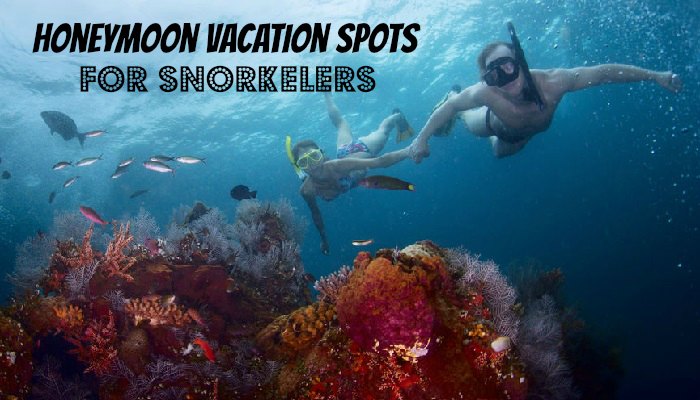 When planning and researching honeymoon vacation spots, some couples insist that their location is optimal for beach fun and snorkeling.
Snorkeling is a popular honeymoon activity for many reasons. It allows you to see what's living below the surface, but it's not as dangerous as deep-sea diving. It's a unique experience that many people don't get to enjoy in daily life, but it's not a difficult activity to schedule at most resorts and beach honeymoon destinations. It's also one of the most affordable underwater activities that you can select, and you don't have to pack your own equipment or buy expensive supplies.

Snorkeling Honeymoon Vacation Spots You Will Love:
If you want to leisurely swim through the water while making googly eyes at one another and posing for pictures amongst the coral and the colorful fish, the following honeymoon vacation spots may suit your honeymoon needs.

Do you want to swim with the dolphins? If you snorkel off one of these western Bahama islands, there's a good chance that you'll see them swimming peacefully in their natural habitat. It takes less than an hour to fly to this honeymoon destination from Florida, so it's a great excursion to add to your itinerary if you're planning a Florida honeymoon. The best time to go is in the summer because the water is calmer and warmer during those months.
Buck Island in the U.S Virgin Islands
You'll find this uninhabited island less than two miles from the northeastern edge of St. Croix. This is a good snorkeling destination for beginners because you can follow an underwater trail that takes you past colorful fish, friendly turtles, and beautiful coral. The crowd is thinner in the summer, and you should always check the weather to avoid windy days. Trunk Bay is another location in the U.S. Virgin Islands that offers a self-guided underwater trail, but this one also includes signs that help you identify what you're seeing.
Jump on a boat from the shores of Roatán, and expect to reach this uninhabited island in under an hour. With lush green forests giving way to a pristine beach, this is a great place to feel like the only two people left on earth. The water itself is so beautiful that you may catch yourself splashing around rather than dipping below to check out the coral. Think ahead and book a Pigeon Cay Snorkel Tour so that you have knowledgeable guides to help you out.
You can't talk about snorkeling on your honeymoon without at least suggesting this beautifully named spot found off the coast of Catalina Island. Fish in this area are more than familiar with smiling human faces, and many will come right up to you in search of food. You can bring bread, peas, and other treats along with you, but make sure to clear your menu with the guides before feeding the little sea creatures.
Make sure to invest in a waterproof case for your camera before going on your snorkeling honeymoon. Some of your most unique and unforgettable pictures are bound to be snapped under the water.
Related Articles:
Home > Planning a Honeymoon >  Honeymoon Vacation Spots for Snorkelers