Top 10 Honeymoon Planning Tips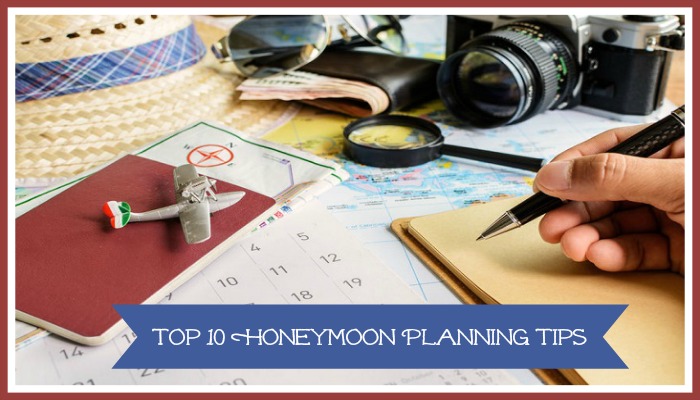 These honeymoon planning tips should help to keep vacation planning fun and minimize the stress.
Planning your honeymoon should get you excited about the trip to come. You're probably under a lot of stress while planning your wedding and trying to stay within your budget, but your honeymoon is the reward that you can look forward to in the future. If you follow some of these honeymoon planning tips, you're likely to make it to the trip less stressed out.

Honeymoon Planning Tips and Tricks:
Accommodate the interests of both parties. You may want to hop in a helicopter for an aerial tour while your new husband wants to spend all of his time golfing. Your new bride may have her heart set on a romantic couple's massage while you simply want to sit in the sand and watch the waves. The most successful honeymoons will include activities that you both find enjoyable, so split your time equally. This means that you must both participate in the honeymoon planning process.
Start planning as early as possible. The best rooms, cabins, suites, and villas will sell out months if not years in advance. If you want to visit upscale restaurants, you may need to book reservations just as far in advance. The earlier you start researching and booking, the more likely you are to get your choice of accommodations, amenities, and exclusive deals.
The easiest way to reduce the cost of your honeymoon is to reduce the cost of travel. If you have credit cards that award points or airline miles, try to use those cards when purchasing items for your wedding. You'll save money on your honeymoon airline tickets while covering necessary expenses for the big day. You may also redeem airline miles if you're a frequent flyer, and some organizational memberships may entitle you to a discount. Simply booking your tickets months in advance may give you a discount as well.
Pay close attention to the climate of your destination. You don't want to arrive in Florida just as a hurricane rips through the southern U.S. A Colorado ski resort may not offer the fluffy white snow that you crave if you visit during the off season. You can never guarantee perfect weather, but you can put the odds in your favor by doing a few minutes of research online. While you can save money for booking just outside of peak season, you risk horrible weather if you go too far out of peak season.
Don't limit yourself to the expected or the typical. This is your opportunity to do something that gets you and your new partner excited. Worry less about what your friends have done or what your loved ones recommend, and fully plug into what you want to do and experience as a couple. No one else matters when making these arrangements.
Don't pass up on insurance. You may assume that nothing could possibly stop you from going on your honeymoon, but there are many unexpected situations that could lead to cancellations and delays. It's best to pay a bit more for insurance now so that you're not out a lot of money if something unusual occurs.
Make sure that everyone you speak to knows that you're planning a honeymoon. Most resorts, hotels, villas, and cruise ships will offer extra amenities for honeymooners. These perks aren't always advertised, so you'll have to let everyone know what type of trip you're planning.
If you have trouble settling on one vacation destination, go for a honeymoon with multiple destinations. You can split your trip so that you spend time in more than one location, enjoying a variety of activities and cultures. The longer your honeymoon, the more likely you are to make this work.
Ask about the travel requirements if you're entering a foreign country. Some countries now require a passport that is good for at least six months after your arrival date, and others require visas or other paperwork in addition to your passport. It can take time to secure these documents, so don't wait to the last minute to ask what you need.
Napping is acceptable. In fact, most newlyweds will tell you that it's an essential requirement. Many couples feel obligated to make the most out of every moment of their trip because it's a once-in-a-lifetime experience, but your ultimate goal is to relax and return home refreshed. Since the wedding process is so stressful, you will need at least one long nap to make that happen. Don't feel guilty when all you want to do is cuddle up and snooze.
One final tip before you start the honeymoon planning process: check with your doctor as soon as you know where you're headed. You may need vaccinations and there may be other things to keep in mind when traveling to a foreign country. You want to ensure that you stay healthy and are aware of any risks to your health before you get on the plane.
More Honeymoon Planning Tips and Related Articles:
Home > Planning a Honeymoon > Top 10 Honeymoon Planning Tips