Cheap Honeymoons in Las Vegas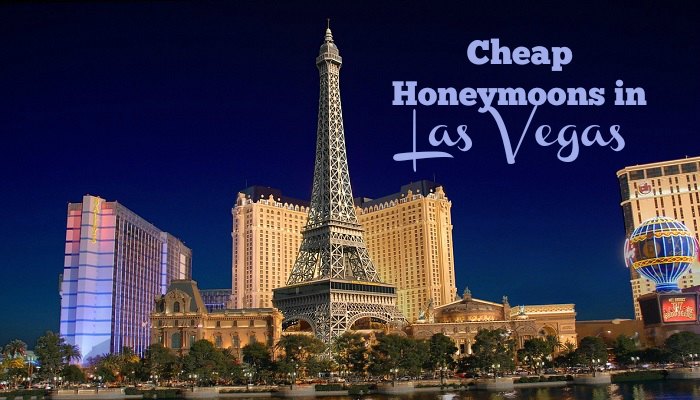 One way to create cheap honeymoons is to stay within the United States, preferably as close to home as possible. 
For many couples, Las Vegas comes to mind instantly because it's guaranteed to make you feel every emotion that is associated with a pleasurable honeymoon. You'll have many options for romantic moments, excitement is covered with the casinos and shows, and those massive buffets will tease your taste buds when it's time to dine.

Top Ways to Plan Cheap Honeymoons in Las Vegas:
You can certainly blow thousands of dollars in Vegas if you have it, but there are also some ways to keep your expenses to the minimum. We rounded up some ideas to get you off on the right foot.

Book an All-Inclusive Deal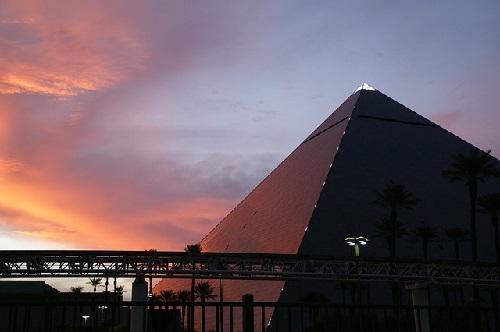 Don't write off those sparkling hotels with tall towers lined with upscale rooms. Hotels like the Luxor offer all-inclusive deals that can deliver a comfortable room and some upscale accommodations for an affordable price. The packages offered may give you free meals and drinks as well as free tickets to some of the most popular Vegas shows and credits to use in the casino. You can even book your airfare and all-inclusive accommodations through Luxor, but your trip will be cheaper if you can rent a car.

Shop in Advance
Look online to learn about the various shows, thrill rides and other attractions in Vegas before you go on the trip. You'll find many opportunities to buy tickets and book reservations at discount prices. This also allows you to plan what you want to do before you arrive, preventing you from paying more for attractions that you won't enjoy just because they're close to your hotel.
Live It Up for Free
The key to a cheap honeymoon is to mix free activities with modestly-priced activities. In Vegas, this means visiting CityCenter to look at impressive artwork or heading downtown to pay a visit to Gold and Silver Pawn Shop of TV's Pawn Stars fame. There are also free shows happening at many of the large hotels, so ask around to see what's happening when you're in town.
Drink Up for (Almost) Free
Go to some of the older casinos in the downtown area like the Golden Nugget and the Cortez, and take advantage of the free drinks offered while you gamble. You'll get the same deal at virtually any casino in the city, but it's much cheaper to play at the older establishments. If you don't spend a fortune gambling, you can earn more in free drinks than you lose to lady luck.
Don't Make Assumptions
It's common for honeymooners to see the amenities and activities available at a Las Vegas hotel or resort and assume that it's all free with their room reservations. This isn't true in most cases, so you could easily overspend on a fancy hotel only to find that you can't afford to do much of anything on your budget. For example, The Stratosphere is a massive hotel that features a variety of thrill rides, but you have to pay for an unlimited ride pass or for individual rides.
You can visit some of these big hotels to try out the rides and casinos without booking a room there. In many cases, it's more affordable to pay a visit while staying in a motel or inn that fits your budget better. On the other hand, don't assume that all activities at a fancy resort are expensive. Circus Circus is a luxurious hotel that features circus acts completely free of charge.
Before you leave for Vegas, make sure that you have a clear-cut budget. If you and your spouse are aware of your maximum spending limit, it will be easier to make decisions on where you want to spend your money. You may want to splurge on a romantic restaurant instead of gambling the night away, or you may decide to spend big on a couple's massage while skimping on food. These are decisions that only you and your new spouse can make, and it's best to discuss it ahead of the trip.    
Related Articles about Cheap Honeymoons:
Home > Discount Honeymoons and Romantic Getaways > Cheap Honeymoons in Las Vegas