Beware: Cheap Honeymoon Travel Packages that are Scams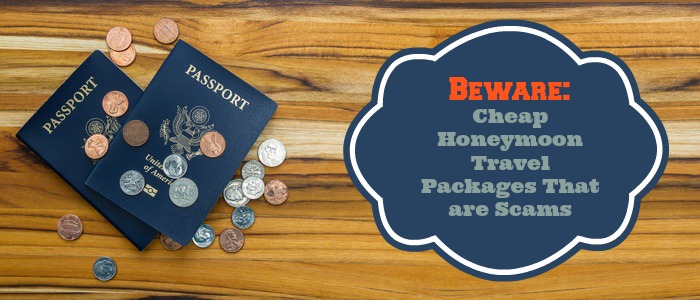 You're diligently researching cheap honeymoon travel packages with hopes of making your dreams come true without destroying your budget. It's difficult to imagine that there are scam artists targeting brides just like you, but they're out there and they don't have your best interests in mind. In fact, they care more about their own profit than your dreams of a memorable honeymoon. That's why you should be aware of the scams most commonly used to target honeymoon planners. 

You Won a Honeymoon Package!
If you receive an email or phone message that says you won a cheap honeymoon travel package, the pitch is likely to follow with a requirement that you attend a meeting at a hotel or another public location. You'll show up excited, expecting to receive more information about your free honeymoon. Only after sitting through a timeshare pitch that lasts for up to three hours will you realize that the honeymoon isn't exactly free.

The cost is the time that you sit through the timeshare meeting, the added time that you spend telling the salesmen that you don't want to spend thousands of dollars on a timeshare, plus the cost of taxes and added fees. You also must take the trip during specific dates, and there's typically no flexibility or concern for your wedding date.
You may find that many of the dates offered put you on your honeymoon at disadvantageous times of the year, which makes it a cheaper trip for the salesmen but a less enjoyable trip for you. In most cases, you can book a trip to the same destination for slightly more or even less than the taxes and fees demanded by these salesmen, and that allows you to travel on the dates that fit your schedule.
Honeymoon Sweepstakes & Giveaways
You'll see a lot of these at bridal fairs and trade shows. You fill out a card or form with your personal information and drop it into a container hoping to win a free honeymoon or other luxury prizes. In most cases, you will get nothing for your participation but junk mail. The contact information that you provide is often sold to companies who want to market their wedding-related products and services to you. Most people enter these promotions and forget about it by the end of the day, so no one knows if a winner is ever selected as promised.

In other cases, everyone who enters the promotion will get a phone call declaring them the winner. They'll get invited to a special dinner or another meeting to discuss their prize, and then they'll realize that it's a timeshare pitch. You can read above to see the downfalls to "winning" a honeymoon from one of these "opportunities."
There are some legitimate giveaways at bridal fairs, but they're offered by companies with recognizable brand names. When entering a promotion from an unknown company, there's a much higher chance that you're giving your contact information to a scammer.
Random Freebies
Sometimes you don't even have to willingly participate in a sweepstakes or giveaway to "win" a "free" honeymoon travel package. You'll receive a random phone call or email stating that you're the winner of some promotion that you don't remember entering and have never heard of before. These scammers aren't connected to a timeshare business. They just want you to pay the taxes and fees upfront so that they can give you the free trip. In many cases, they'll promptly disappear with your money and you'll be left with no honeymoon at all. In other cases, you may receive hotel accommodations that are less than desirable, and you'll pay two to three times what the trip is actually worth.

Avoid the Cheap Honeymoon Travel Package Scams
Always get the full name and contact information of any company offering you a honeymoon promotion or special cheap honeymoon travel package. Do your research before you give them any personal information or hand over any money. Check with the Better Business Bureau, though often you'll find a lot of complaints from other newlyweds if you simply search for their name online. If others have had a negative experience, then you're likely to experience the same treatment.

Remain stingy with your identifying information, especially your social security number and banking information. There are also scammers interested in stealing your personal identity for reasons that have nothing to do with your honeymoon.
Related Articles:
Home > Discount Honeymoons and Romantic Getaways > Beware of Cheap Honeymoon Travel Packages