All-Inclusive Honeymoon Destination Options in Mexico
All-inclusive honeymoon destination options allow you to show up and enjoy your time without as much concern about finances. 
This definitely makes your trip easier and less stressful, but it doesn't mean that you can show up without a debit or credit card on hand. While all-inclusive honeymoon packages will include your accommodations and at least one or two meals per day, most packages won't cover everything that you'll need to make your trip memorable.
For instance, some all-inclusive packages limit the restaurants that you can eat at or the times during which you can eat. Most won't include alcoholic beverages, and you may want to enjoy excursions and activities that aren't covered by your package. If you dine at restaurants not affiliated with your hotel or resort, those meals won't be covered either. What about shopping? You'll have to pay for your items even if you purchase them at the hotel or resort.
Favorite Mexican All-Inclusive Honeymoon Destinations:
That said, all-inclusive honeymoon destinations in Mexico do allow you to pay one price in advance to cover the majority of your expenses. You can always scale your added activities and meals to fit your budget once you arrive. To help you find the best Mexico destination for your honeymoon, consider this short list of outstanding hotels and resorts offering all-inclusive packages: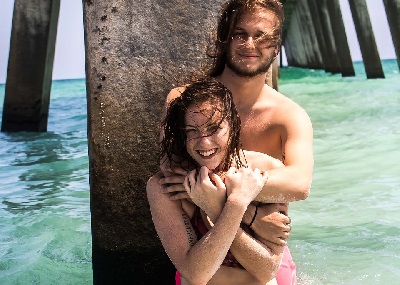 Breathless Cabo San Lucas Resort & Spa. The "unlimited-luxury" packages offered by this resort make it one of the best all-inclusive deals available today. The package does include unlimited alcoholic beverages and gourmet dining, but note that you're limited to a la carte menu items. You can also take advantage of 24-hour room service. Most daytime and nighttime activities are included as well.
Casa Velas. This is a luxury adults-only hotel that offers unlimited meals from multiple restaurants at two properties with their all-inclusive deal. You can also enjoy non-motorized water sports and the themed dinners as part of the package. The grounds are spectacular, and you'll find many beautiful places to simply sit together and relax.
Isla Mujeres Palace. This is a couples-only resort, and you have to take a boat from Cancun to reach this small island. You'll enjoy a beach with powder-soft white sand and a small resort with less than 70 rooms available. They offer a honeymoon and destination wedding special that can give you up to $1,500 in resort credit to use on added excursions, spa services, and other items. You can also select from four honeymoon packages, each included added luxuries like matching shirts, flowers, in-room aromatherapy, and spa services.
Secrets Aura Cozumel. This adult-only resort offers one of the best all-inclusive deals in Mexico. You'll enjoy the peace and quiet that comes naturally to this part of Mexico plus unlimited premium drinks and access to multiple restaurants. In addition to lounging on the beach, you can play tennis, dance in the sand at the bonfire, or enjoy a variety of additional activity options.
Before you book an all-inclusive trip, determine exactly what's included in the package. Sometimes it's more affordable to pay a bit more for a package that includes more activities, excursions, and trip amenities. The cheapest packages may leave you swiping your credit card far more often once the trip rolls around.
Home > Most Popular Honeymoon Vacations > All-Inclusive Honeymoon Destination Options in Mexico